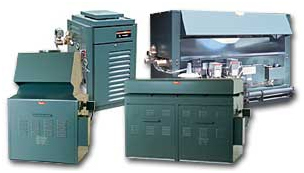 Only Raypak offers a pool heater that is not only the most efficient (up to 82% thermal efficiency) but also includes engineering and manufacturing innovations not found in other makes. As a result, Raypak's commercial pool heater is unmatched for heating efficiency, operating economy, low-cost installation and all-around dependability. And they are fired up and fully tested at the factory to assure their on-site performance.
Key Features
Rugged, efficient heaters for large pools
Clubs. Universities. Municipalities. Watersport Centers. Large residential pools.
23 model sizes — 511,500 to 4,000,000 BTUH inputs.
Indoor and outdoor styles.
82% thermal efficiency.
Natural or propane gas.
Fuel-saving electronic ignition.
Precision water temperature control to ± 1°F.
Low operating cost. Low maintenance cost. Easy service.
Brochure, Installation & Operating Instructions , Spec Sheets
Raypak Professional Series
The Raypak Professional series pool heaters is designed specifically for commercial properties such as apartments, condos, hotels, motels, schools, parks, community and high-end private pools. The Raypak Professional heater comes standard as an ASME stamped unit.
Brochure, Installation & Operating Instructions , Spec Sheets