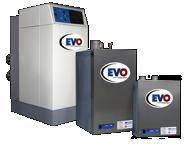 Hamilton Engineering's full line of condensing combustion products (EVO Boilers and EVO Water Heaters with Innovative Condensing Technology) are the mainstream in energy and emissions saving technology today. Rising fuel prices and the need to be green have made Hamilton's EVO products the "must have" in hot water systems for profitability in industries that require heated water systems.
Key Features
Efficiency. The highest possible operating efficiency over the greatest range of conditions.
Technology. Proven, state-of-the-art technology and design in use in millions of installed appliances, for water heaters, heating boilers and pool heaters, and a range of products from 80,000 BTU/hr to 8,000,000 BTU/hr.
Serviceability. The entire EVO line of boilers and water heaters is designed for ease of service. Maintenance will always be required on any condensing product, and the EVO is designed for service in minutes, not hours.
Simplicity. All Hamilton EVO boilers and water heaters can be shipped as a complete, factory-assembled and tested system, with up to 8,000,000 BTU's of input.