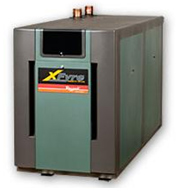 The Raypak family of XFyre Hydronic Boilers, 300A-850A, feature 94% efficiency, whisper quiet operation, and is available for natural gas or propane.
Key Features
Top-side water connections - allows side by side installation.
All models are equipped with 316L welded stainless steel heat exchanger and copper plumbing. ASME Section IV constructed and stamped. National Board Registered AB 1953 low lead compliant.
Multiple pump outputs - Boiler Pump, System Pump, Indirect Pump.
Spark ignition with remote flame sensor.
Electronic modulating gas valve and burner, up to 5:1 turndown.
Certified under SCAQMD Rule 1146.2. Meets all Low NOx regulations.
Supports inlet water temperature down to 50F.
Whisper quiet operation.
On-board diagnostic center, English, no codes.
0-10 VDC BMS Interface (setpoint or direct drive).
Built-in cascade function for up to 4 boilers.
VERSA IC® control package with built-in outdoor reset function.
Complete cabinet protects all controls and wiring.
Tough rust-resistant powder coat finish.
Easy to service - removable air filter.
Certified for PVC, CPVC, Polypropylene or stainless vent materials.
Suitable for altitudes up to 10,000 ft. (derate may apply).
Available for natural gas or propane.