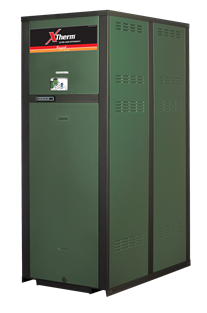 The proven XTherm - vertical modulating condensing boiler in sizes to 2000 MBTU. XTherm combines time-honored high-recovery copper fin technology with cutting-edge control and combustion advancements. The installer can enjoy broad installation flexibility, easy commissioning, and long-term reliability.
Key Features
Cast-iron headers and pumps with a copper finned-tube for the primary heat exchanger. Brass headers and cupro-nickel tubes available as options. CSA Low Lead Certified 0.25% Lead
Minimum continuous inlet water temperature (50°F).
Electronic modulating gas valve and burner, 7:1 turndown.
Small footprint, less than 11 square feet.
On-board diagnostic center, real English, no codes.
All models for indoor/outdoor construction.
Complete cabinet protects all controls and wiring.
Certified under SCAQMD rule 1146.2. Meets all Low NOx regulations.
Suitable for altitudes up to 10,000 ft. (derate above 5,000 ft.).
Primary-secondary piping required.
0-10 VDC Remote set-point BMS Interface.
0-10 VDC Direct Drive.
Available for natural gas or propane.
VERSA IC® control package with built-in outdoor reset function.
Built-in cascade function for up to 4 boilers.
Modbus® RTU port (RS485).
Brochure, Use & Care Manual, Spec Sheet