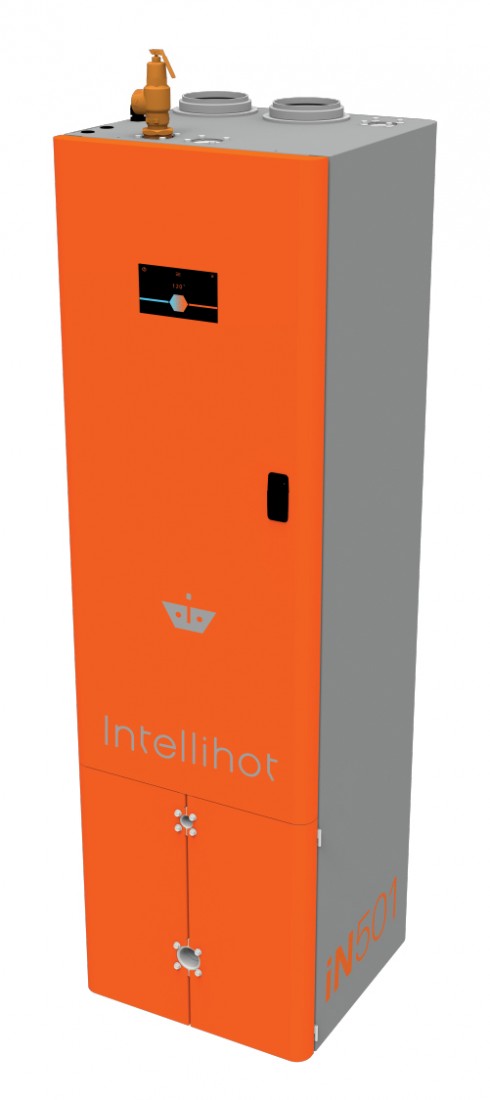 When space and cost are important deciding factors, you can count on our Neuron Series units for superior performance and reliability. Ideal for commercial applications, our tankless water heaters provide 94% thermal efficiency and are constructed for maximum durability - even in the most demanding commercial applications.
Key Features
Compact Drop-In Replacement - Neuron units are over 8" slimmer than a typical tank and feature similarly located water in and out for easy hook up without the need to re-pipe. Replace typical tank units in a flash.
Built-In Redundancy - All Neuron models come with two separate heat engines, independently controlled thus eliminating additional expense and space for a redundant backup water heater.
Direct Cell-LTE Connectivity - Remotely access and monitor our Neuron unit via LTE cell connectivity feature. No need for your building's Wi-Fi.
Mobile App, telliCare® - Use lntellihot's mobile app and start monitoring your unit. Check water inlet/outlet temperatures, flow rates, flue gas temperatures and life of key parts, available on your mobile device of choice.
Low Gas Pressure Operation - System operates on low gas pressure, down to 2.5" WC, without reduction of capacity.
Mitigate Legionella Risk - With no storage tanks there's less risk for Legionella growth. Eliminate the need for mixing valves and their associated unreliability and costs.
Common Applications
Restaurants
Commercial kitchens
Hotels
Fast food
Large high-end residential homes
Schools