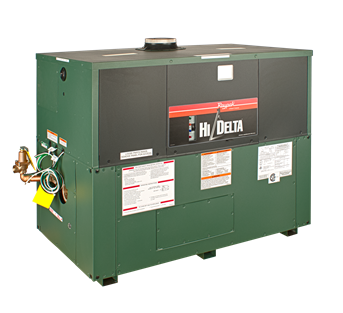 Raypak's family of Hi Delta Hydronic Boilers, 302C-902C, feature 84% efficiency, 2-stage operation, and is available in natural gas or propane variants.
Key Features
CAT I vertical venting, CAT III sidewall venting. No extractor required for sidewall applications up to 70ft on room air.
2-Stage operation.
Patented burner "security blanket" enhances staged combustion, minimizes installation, start-up issues, and protects burners from metal fatigue.
105ºF minimum inlet water temperature.
Cast-iron headers with copper finned tube heat exchanger. Brass headers and cupro-nickel tubes available as options. AB 1953 compliant.
Sidewall venting capable. No extractor needed for most applications.
Ducted combustion air ready. TruSeal® CSA-Certified direct-vent available.
Status display and on-board diagnostic center, English, no codes.
Certified under SCAQMD Rule 1146.2. Meets all Low NOx regulations.
Available for natural gas or propane.