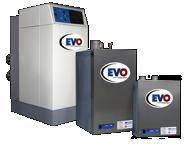 Hamilton Engineering's full line of condensing combustion products (EVO Boilers and EVO Water Heaters with Innovative Condensing Technology) are the mainstream in energy and emissions saving technology today. Rising fuel prices and the need to be green have made Hamilton's EVO products the must-have in hot water systems for profitability in industries that require heated water systems.
Key Features
Efficiency - Up to 99.8% depending on incoming water temperature
Construction - All 316L stainless steel is used for the heat exchanger
Capacities - Systems from 79,000 - 5,000,000 BTU/hr
Unique Features - Common venting, cascading controls, modulating burners, pre-assembled systems, scale monitoring, freeze protection, and heating control configurations
Guarantee. Hamilton Engineering EVO Boilers and Water Heaters carry a 100% satisfaction guarantee.